NEW second-generation internal bypass
NEW patented multi-zone internal bypass technology
NEW larger volume piggyback reservoir (some shocks)
NEW 30% greater fluid volume (some shocks)
NEW anodized anti-pack piston design
NEW conical jounce bumper design
Insane amounts of compression adjustments
Insane amounts of rebound adjustments
Multi-rate springs
Ample amounts of spring preload adjustment
Manufactured in the USA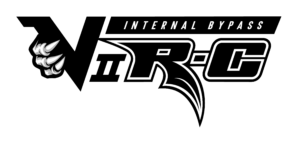 Raptor's patented V1-RC Kinetic Series Internal Bypass shocks set the bar in the industry in 2018 with a highly progressive, ultra-compliant internal bypass shock strategy, which was nothing short of amazing.
The all-new Kinetic VII-RC is a patented second-generation, non-compromising multi-zone internal bypass shock that has no equal. With the addition of more bypass zones and splitting the shift points of each zone, an already progressive shock gains even more progression. Simply put, all grooves inside the shock stop in their own independent positions, giving the shock an unrivaled amount of compliance through the ride zone with lethal amounts of bottom-out protection.
Whether you spend 150 days on the snow like our athletes or just 10, the suspension performance is immediate. You can create new lines, hold old lines, and whale through the bumps like you never thought possible. And let's not forget smoking your buddies back to the trailer!
---
New Shock Decal Color Options!